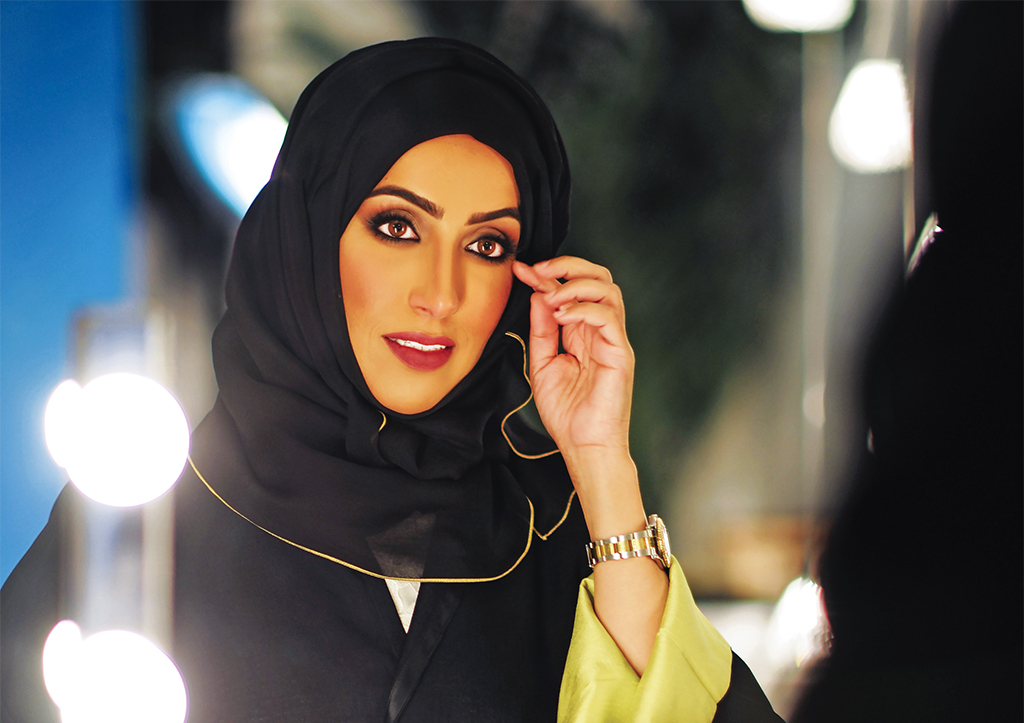 BroadcastPro ME – February2020 – A Step in The Right Direction
Nahla Al Fahad is an Emirati film director with several achievements under her belt. Apart from being part of the jury for the UAE Entertainment Experience, she is Director of Content for Expo 2020 and is in the process of making her first feature film. In an exclusive interview with Shifa Naseer, Al Fahad talks about various projects including her Oscarnominated documentary The Tainted Veil (2015), her production company, and her experiences and aspirations as a woman film director in the UAE.
Over the past decade, the Middle East has seen the emergence of a more mature indigenous film industry, and with it a raft of budding filmmakers and directors whose awareness and innovation have transformed the way people watch movies in the region. Women, in particular, have taken the film industry by storm with their resilience and talent. Emirati film director Nahla Al Fahad is one such force to be reckoned with – she is one of the UAE's most recognised female directors with a long list of TV commercials, popular music videos and corporate documentaries to her name.
"I started my career back in 2002 as an executive director in the private sector," says Al Fahad, explaining that her passion for media, innovation and filmmaking drove her. "Becoming a filmmaker didn't take much time because I knew from the beginning that it is my passion. From a young age, I have always been connected to TV productions, animation and music, so I didn't stop to think about what to study and what to invest in."
Since then, Al Fahad has come quite far. In 2018 she got a place on the American Film Showcase workshop at USC (the University of Southern California), which specifically focusses on documentary filmmaking.
"It was a big step up in my career. I have worked on many documentaries, one of which was commissioned by the National Media Council in collaboration with Sky News. It was about the participation of the UAE in the Yemen war. It was a short documentary.
"Two years ago, I travelled to the US to film a documentary on the UAE students in Arizona, LA, Washington, DC and Virginia. The documentary is available to watch on YouTube. It was in collaboration with the US Embassy and Ministry of Foreign Affairs." However, the jewel in her crown is The Tainted Veil, a documentary that was one of 124 feature films considered in the Documentary Feature category for the 88th Academy Awards in 2016.
The Tainted Veil is a historical documentary shot across nine countries, including France, Turkey, Egypt and the UAE. The 78-minute film looks at the hijab's place in today's world, how it is perceived and why people choose whether to wear it or not. Produced by Anasy Media in Abu Dhabi, the film was co-directed by Al Fahad, who worked alongside American director Ovidio Salazar and Syrian director and producer Mazen Al Khayrat.
"In 2014, I was approached by Salazar, who is the one who travelled around the world and took interviews from people, to look at the material and write a story. We spent an entire year with director Al Khayrat and the producer of the film, Sheikha Alyaziya bint Nahyan bin Mubarak Al Nahyan, daughter of the Minister of Tolerance, Sheikh Nahyan bin Mubarak Al Nahyan."
Sheikha Alyaziya was the one who came up with the idea, says Al Fahad. "We worked for almost a year developing the story, picking the right interviews, and creating this journey from one country to the next. The main challenge was to decide what to highlight in the interviews and what message we wanted the audience to take from it."
The team decided that the tone of the film was not to dictate any perspectives but to follow a debate on the hijab and let the viewers decide for themselves.
"It's not about right or wrong but about how you see the different views of both Muslims and nonMuslims regarding the hijab."
The film covers interviews withscholars, artists, young Muslim women in France who face issuesin the country due to hijab laws, and ordinary people. It shows how people react to the hijab and shares stories from Western women who choose to wear it.
"We also interviewed an Egyptian woman who chose to take off her hijab," says Al Fahad.
The Emirati director says the hardest artistic choice was for the film to be clear about the message it aimed to deliver.
"We didn't want people to think that because the makers are from the UAE and are Muslims, they would speak in favour of the hijab. We were not here to influence viewers. We wanted people to arrive at their own conclusions based on different stories that we showed. Our aim was to offer different perspectives."
The Tainted Veil went on to win many international awards – at the International Film Festival, Jakarta in Indonesia, the Silk Road Film Festival in Dublin and two more in California. It was screened all over the world, including at the Dubai International Film Festival in 2015.
As an acclaimed director, Al Fahad was part of the jury for the recently concluded UAE Entertainment Experience project, a Sharjah Media City initiative. She also recently directed a two-minute video on the UAE's 48th National Day that was released by the organisers of Expo 2020 Dubai.
"We had a couple of brainstorming sessions to develop last year's National Day video. I thought it would be more special when musicians play the UAE's national anthem on their authentic instruments. That's why I picked countries like the Philippines, China, Sweden, India, the UAE, Saudi and Jamaica."
Al Fahad also directed a video released for the Year of Tolerance. "Since 2019 was chosen as the Year of Tolerance, we had a chance to develop a video for it."
The Emirati director runs her own production studio, Beyond Studios, which has a close-knit team of 40. Most of the revenue she requires to run her passion projects comes from the studio's projects and events.
When she has bigger projects, sherelies on the large freelance talentpool in the UAE. "I deal with a lot of freelancers. I have my network of producers and directors."
Being a filmmaker is a challenge.It is an even bigger challenge being a woman filmmaker, says Al Fahad. In particular, gaining the trust of producers and sponsors has taken time.
"It took me around four to five years to gain the trust of producers.It wasn't an easy journey."
Today, Al Fahad represents Emirati and Arab women on several international forums. She believes there is huge scope for women in this industry.
"We have many examples of women who have achieved so much and made their names in the film industry. Compared to the Western market, it is quite a small list. But the industry is relatively new and picking up now."
She says it is important for her to be part of international film festivals, as the experience helps gain the confidence of producers and this, in turn, helps with funding. "I want to show the audience that we have amazing stories to tell the world. We just need to produce it and make sure we have funding."
She is currently preparing for her first feature film, as part of the final journey of the UAE Entertainment Experience project. She is also working on a short film about a Saudi girl living in Dubai who is confused by the American and Saudi culture.
Al Fahad has also been working on a feature film named Maryam which revolves around a young woman's relationship with her estranged grandfather, followed by a reunion after many years.
The idea for the film was conceived during a visit to a social centre in Sydney, Australia when Al Fahad saw an old man staring out of the window in one of the rooms. "I stopped and looked at the man, staring outside the window, when the story came to me."
The film explores the complex relationship between a young woman and her grandfather, both victims of circumstances. "It has a lot of complicated emotions. I wrote some scenes of how old and young people are different in many things. The clashes that happen due to the generation gap are what I'm highlighting in the film."
It has not been a rosy ride for Al Fahad but despite her share of setbacks, she also believes in resilience and not giving up. When she needs a break, she turns to travel and photography, both of which give her the dopamine she needs.
For budding filmmakers, Al Fahad has some advice.
"We are all in a hurry to be part of film festivals and expensive camera crews. Instead, we need to learn and write authentic stories. My advice is to be real. Be you. Don't try to imitate others. Believe in yourself and your ideas.
Don't be shy. Be proactive."
She doesn't just give advice, she also takes it, having attended several workshops over the years to enhance her knowledge. She calls HH Mohammed bin Rashid Al Maktoum her inspiration and her mother, Nasra, her biggest role model.
Al Fahad has been the recipient of many scholarships to attend workshops, which she believes are very important for a filmmaker.
She received two scholarships from the American Embassy to attend workshops in the US.
"My first course was part of an exchange programme which took me to New York, Washington, DC, North Carolina and Los Angeles. I did intensive workshops in filmmaking where I met some of the big names in Hollywood. During these workshops, I had the opportunity to visit the academies in Los Angeles. I also attended a couple of film festivals like the Silver Docs Film Festival and the LA Film Festival."
She says these are necessary to build knowledge and gain exposure about filmmaking. "You should take courses if you are willing to transform what you already have and show it to the audience in the best way possible. So it's good to have such degrees." Al Fahad is currently pursuing a doctorate in Innovation and Media at Derby University in the UK.