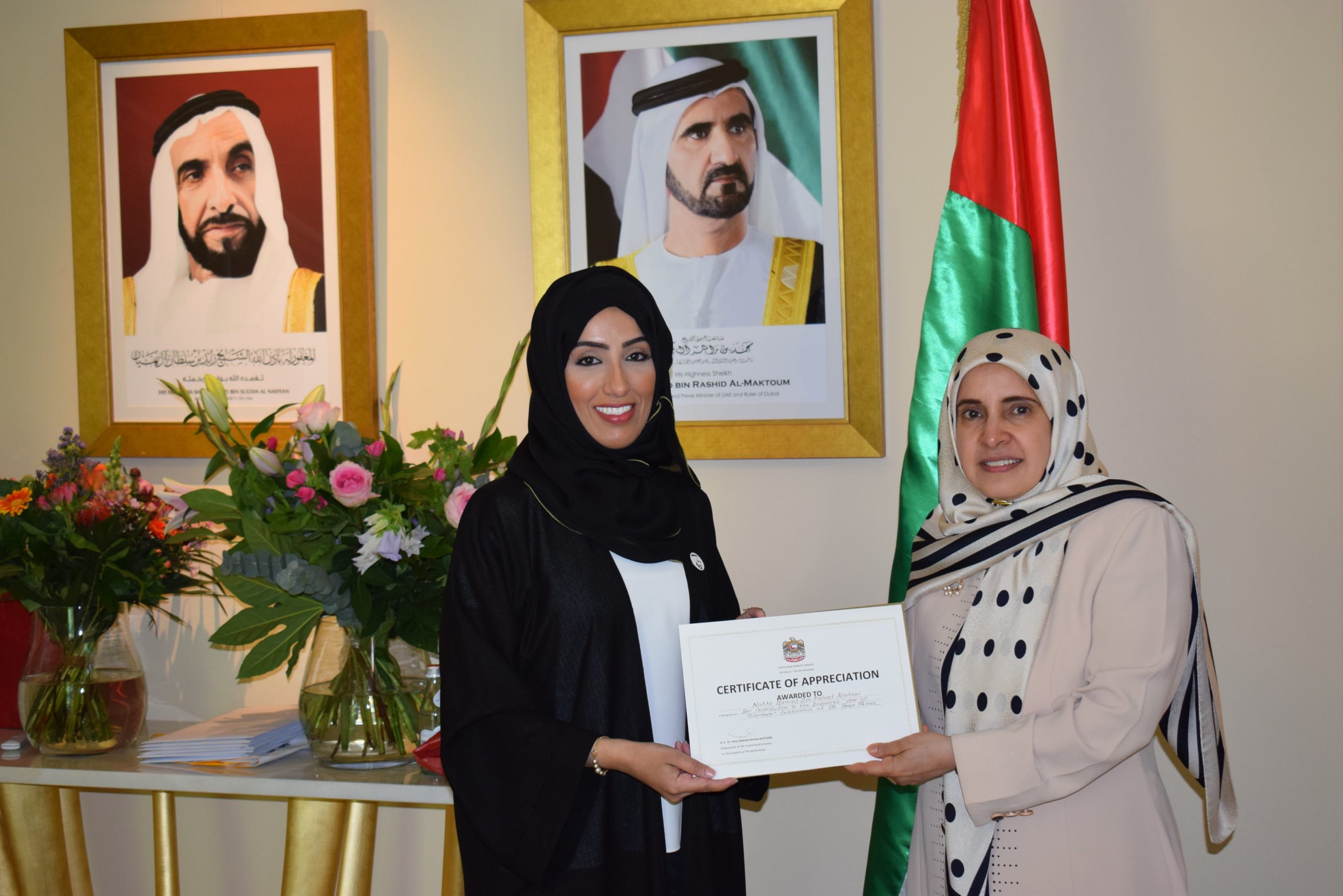 Emirati filmmaker Nahla Al Fahad honoured in Netherlands
Dr Hessa Abdullah Ahmed Al Otaiba, the Ambassador Extraordinary and Plenipotentiary of the United Arab Emirates to the Netherlands, presented a certificate of appreciation to the creative Emirati filmmaker Nahla Al Fahad, in recognition of the outstanding efforts made in directing a film about the Year of Tolerance in the UAE, produced for Expo 2020.
The honouring ceremony was held at the embassy headquarters, as part of a meeting hosted by the embassy to promote the UAE efforts in empowering the Emirati women, and was attended by a group of VIPs, ambassadors and members of the diplomatic corps.
The film highlights the approach adopted by the UAE, since its establishment, in being a bridge of communication and convergence between peoples and cultures of the word in an open environment based on respect, accepting of others and rejecting extremism.
Nahla Al Fahad expressed her heartfelt joy over this honour which is added to her career achievements. She said that the Year of Tolerance reflects the approach adopted by the UAE since its establishment in highlighting the tolerance and expanding coexistence and dialogue.
She added: "I was keen to highlight the UAE's message of promoting the values of tolerance, communication and coexistence in the community and to present the UAE's model of tolerance. The film highlights how tolerance is promoted through policies, regulations and openness to other human cultures, through the UAE's efforts to build a more tolerant community."
Emirati filmmaker Nahla Al Fahad has received numerous local, regional and international awards, the most recent of which was the Personality of the Year in the filmmaking category by Friends of World Federation of United Nations Association, in recognition of her works which support tolerance and peace. Today Al Fahad represents the Emirati and Arab women in international forums.
Director Nahla Al Fahad will develop a number of works, including works related to Gulf and Arab women, after the completion of the UAE Entertainment Experience project, the first of its kind project in the Arab World, being carried out in collaboration with Sharjah Media City (Shams), through her membership in the Dream Team of this pioneering experience.