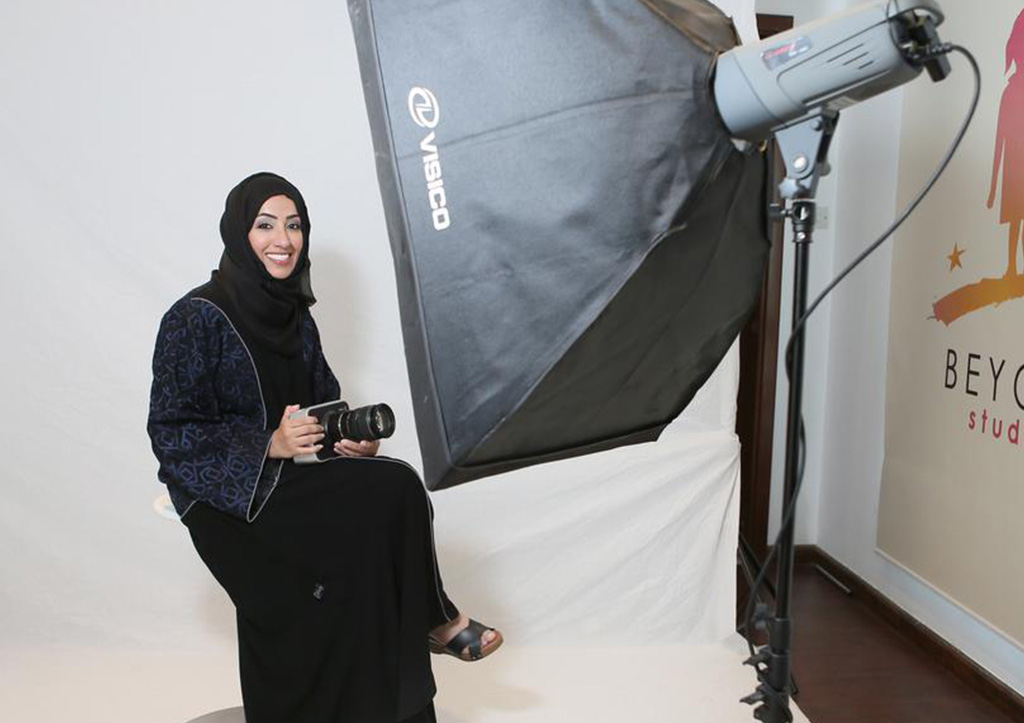 Emirati students living in US tell of struggles in new documentary
Enterprising Emirati students who left the UAE to pursue the American dream are being celebrated in a documentary.
Emirati film maker Nahla Al Fahad has directed and produced the programme offering a unique insight into the lives of globe-trotting learners who seek to further their academic studies thousands of miles from home in America.
The thought-provoking film, The Ambassadors, was created by the US Embassy in Abu Dhabi in partnership with the Ministry of Education and the UAE Embassy in Washington and premiered at an iftar held by the US Embassy Public Affairs Section this week.
Al Fahad said she wanted to highlight the struggles students faced and the challenges they had to overcome when going out of their comfort zone to build brighter futures for themselves.
"I didn't want to do a regular video of doing interviews and then leave home," she said. "I wanted to make something emotional to show the other side of the Emirati student's struggle. It's challenging to live alone so I wanted them to talk from their heart about their experience."
"The video highlights the creativity of young people in the UAE," said Country Public Affairs Officer, Scott Bolz.
In the video, all students speak of their hopes of advancing their country upon their return.
"I want to try to build a better future for the Emirates (God willing). Security is an important matter. Nowadays, you should be more afraid of someone breaking into your computer than someone breaking into your home," said Abdullah Almansoori, who is earning his Master's in computer science at the University of Southern California.
Mr Almansoori said he is grateful for the privileges the UAE has granted him throughout his trip.
"Tuition is paid for, insurance is taken care of, and you receive medical treatment at no cost and this is a blessing," he said.
ome students had to work hard to adapt to the new environments they were placed in.
"When I first arrived in the US, my English language was weak, to be honest," said Mohammed Almuhairbi, a finance student at American University in Washington DC. "So I was not admitted into the universities I was aiming for. I decided to live with a family for six months and it was a fantastic experience. I learned English proficiently enough to attend university."
Time management was the greatest struggle that Mira Almidfa, 28, faced while studying film production at the American Film Institute in Los Angeles.
"You face two different kinds of struggles in different kinds of intensity at the same time," said Ms Almidfa. "Not only are you going to somewhere that is foreign to you where you have to learn how to do everything by yourself. I pretty much didn't know how to cook or do my laundry and I had to learn that while at the same time doing film which is demanding of every hour of your day."
The documentary also seeks to educate Emirati pupils about the application process and to show them what life in the US is like through the experiences of other students.
Adjusting her filming schedule was Al Fahad's greatest struggle.
"Our time was tight and students were engaged in exams or projects such as Mira. She was doing her graduation project as we were filming."
The scenes were filmed in Washington DC, Arizona and California.
There are approximately 2,800 Emirati students in the US studying at both undergraduate and graduate levels.
"We see Emirati students attending and excelling at some of our best universities in the United States. It is a testament to the talent, skill and knowledge of the young people of the UAE," said Mr Bolz.
The United States is the top oversees destination for Emirati students to complete their higher education.
"The US and the United Arab Emirates have a very strong and dynamic relationship and education has played a key role in this relationship," added Mr Bolz.
To help ease the transition on Emirati students, the US Embassy offers advising and guiding services through their two EducationUSA centres in Abu Dhabi and Dubai.
EducationUSA is part of the US Department of State global EducationUSA network.